Table Of Contents
Customize Your Membership Experience
Customize Your Membership Experience
Creating a modern membership experience serves both your members and your group's administrators. Upon joining your group, members can receive tailored messages to make them feel welcomed and valued. During this period, you can easily collect the information your group needs by creating custom and required fields for them to fill out.
How Do I Set Member Profile Fields?
You can gather as much or as little information from your members to meet your group's needs. Adding custom details to your group's required information section helps address other needs specific to your group, such as emergency contact info or T-shirt size that members need to provide.
Choose required profile fields
Potential new members of your group must fill these out before being able to join. Once completed, these basic fields make managing your group easier.
On the left navigation bar, click

Membership

In the

Joining Our Group

section, select

Member Profile Information

Choose which

Profile Fields

new members are required to fill out from the list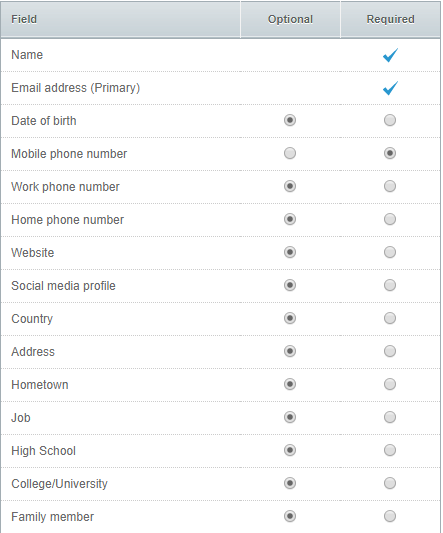 Add custom fields to your group's database
Unlimited custom fields can be added, allowing your group as much detailed personalization as needed.
Click on

Membership

Select

Custom Fields

Click

Add a Custom Field

Fill in the required information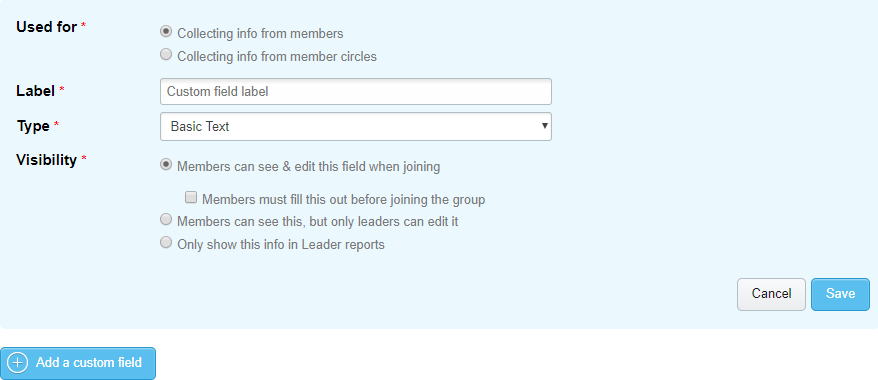 Note: Label is the name the field will be given. Type is the format in which the field will be populated by the member. Visibility indicates who can see the field, and if it is required before joining.
Click Save
Repeat steps 3-5 to add additional custom fields
Click Save & Close when you're done with all custom field additions
The best time to ask for member details is when individuals are signing up as new members; this is the time they are most engaged. However, if you add a new custom field after a member has joined, you can send a profile update request to refresh information.
Customize the Join Process and Welcome Email for New Members
To give new members the best experience in joining your group, we consider it a best practice to customize the join process. That means using your organization's logo in the join email and including a message that emphasizes the value of joining.
Customize the join process
In the left navigation sidebar, click

Membership

In the

Joining Our Group

section, select

Add Custom Content to New Member Pages

In this preview mode that displays what new members will see, admins can click to change the logo and add custom messaging. This is where you can include a hyperlink to your terms of service or privacy statement so that it is easily accessible and GDPR compliant.
Click Preview Next Step

Click default area to edit text
Edit text and click Save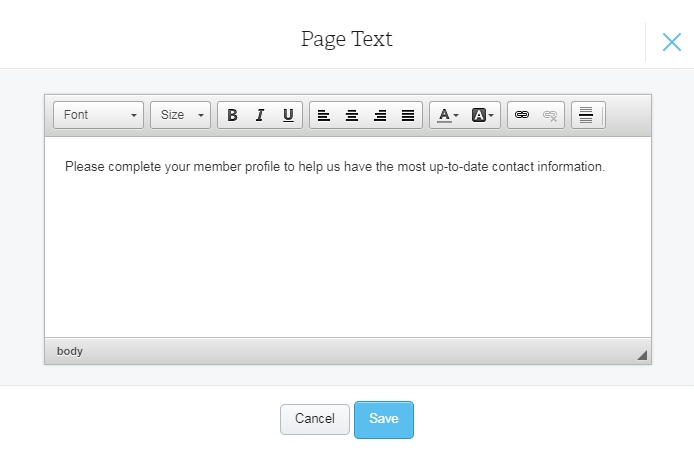 Repeat steps 3-5 until you reach the last page of the preview, which is the confirmation a member will receive upon completion of the online join process.
On the last page in of the preview, disable default links or include a link of your choice on the confirmation page
By default, the following links are included on the confirmation message: home page (member dashboard), member's profile, and the group's profile page (group site on memberplanet). An admin can disable all three and include a custom message and link.
Sample confirmation page in preview mode: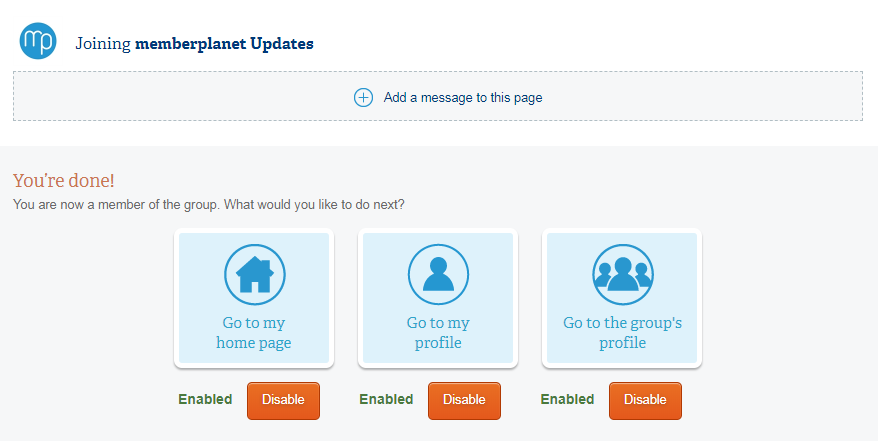 When complete, click End Preview
Customize the automated welcome email
Admins can customize an automated welcome email to send to new members when they accept an invitation and join your group. We highly recommend that you take some time to customize this message to new members, because this is the first email they'll receive after joining your organization! Some suggestions: Reiterate the value of being a member by listing member perks, detail the next steps one should take to get involved, sign it with your name to make it more personalized, and include contact info of the person they can reach out to if needed.
On the left navigation sidebar, click

Membership

Scroll down to the

New Member Actions

section

Click

Customize an Automatic Welcome Email for New Members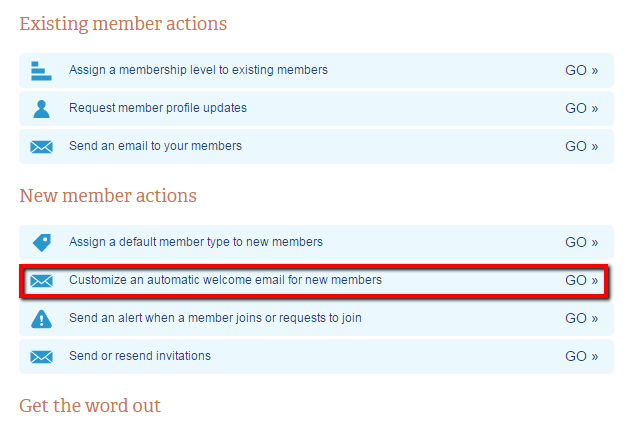 Select the checkbox for

Send a Welcome Email to New Members When They Join Your Group

Customize the subject line and body of the email by hovering over the text box and clicking

Edit

Hit

Save & Close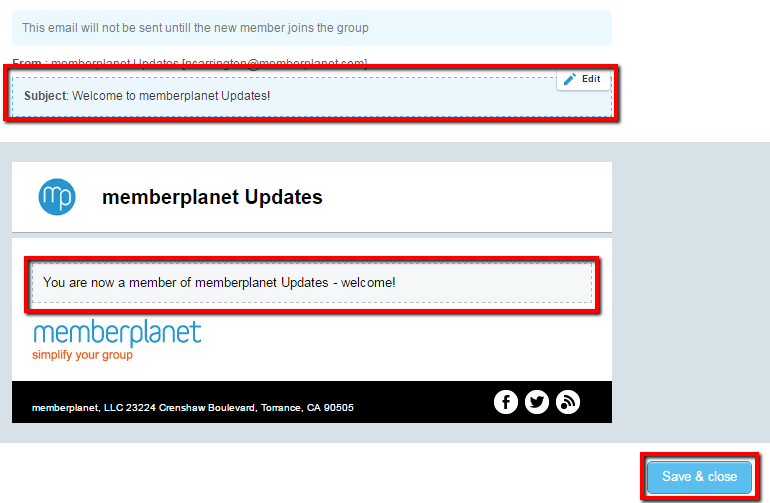 How to Set Up Additional Payments
You can collect one-time payments from members when they sign up for your group. These can be required or optional payments. These are unique payments and are not part of any of your group's payment forms. For example, if you want to offer new members t-shirts at sign up you can use an additional payment to do so.
On the left navigation sidebar, click Membership
Select Additional New Member Payments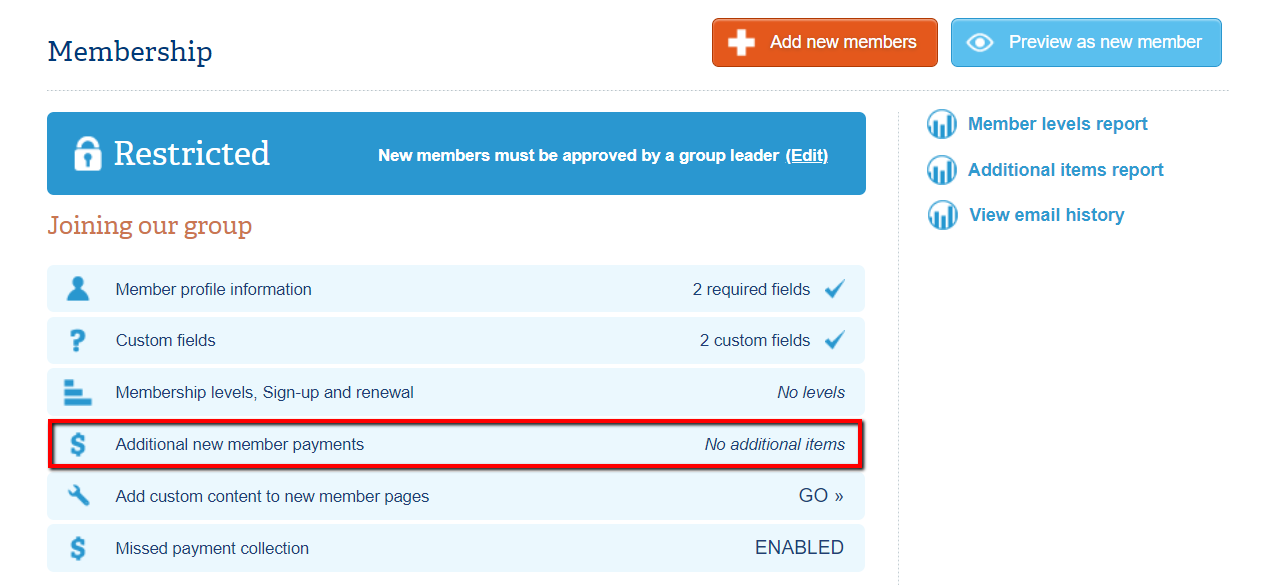 3. Click on New Item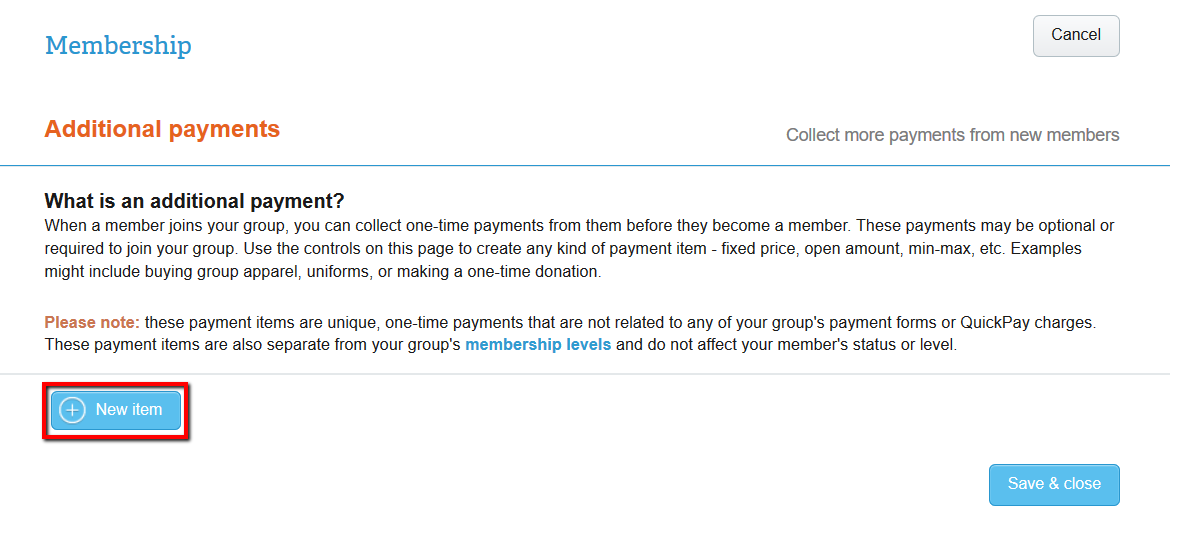 4. Enter the details of the payment item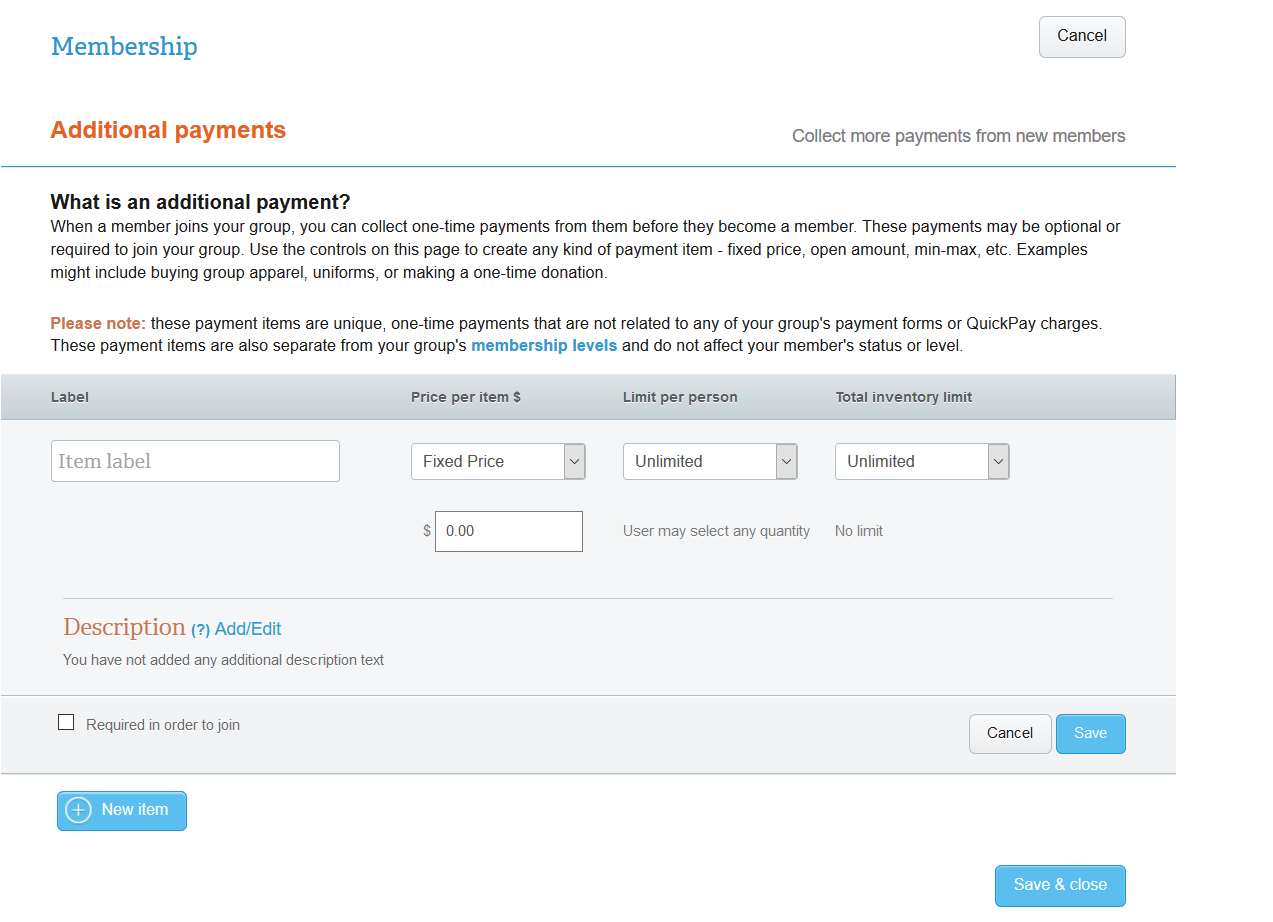 5. Once complete click Save & Close
Turn On or Off Lapsed Payment Collection
Toggle on or off payment collection for lapsed members. This allows you to decide whether or not to collect missed payments for returning members.
Click on Membership on the left navigation bar
Select Missed Payment Collection in the Joining Our Group section
Click on the dropdown menu to choose whether to enable or disable missed payment collection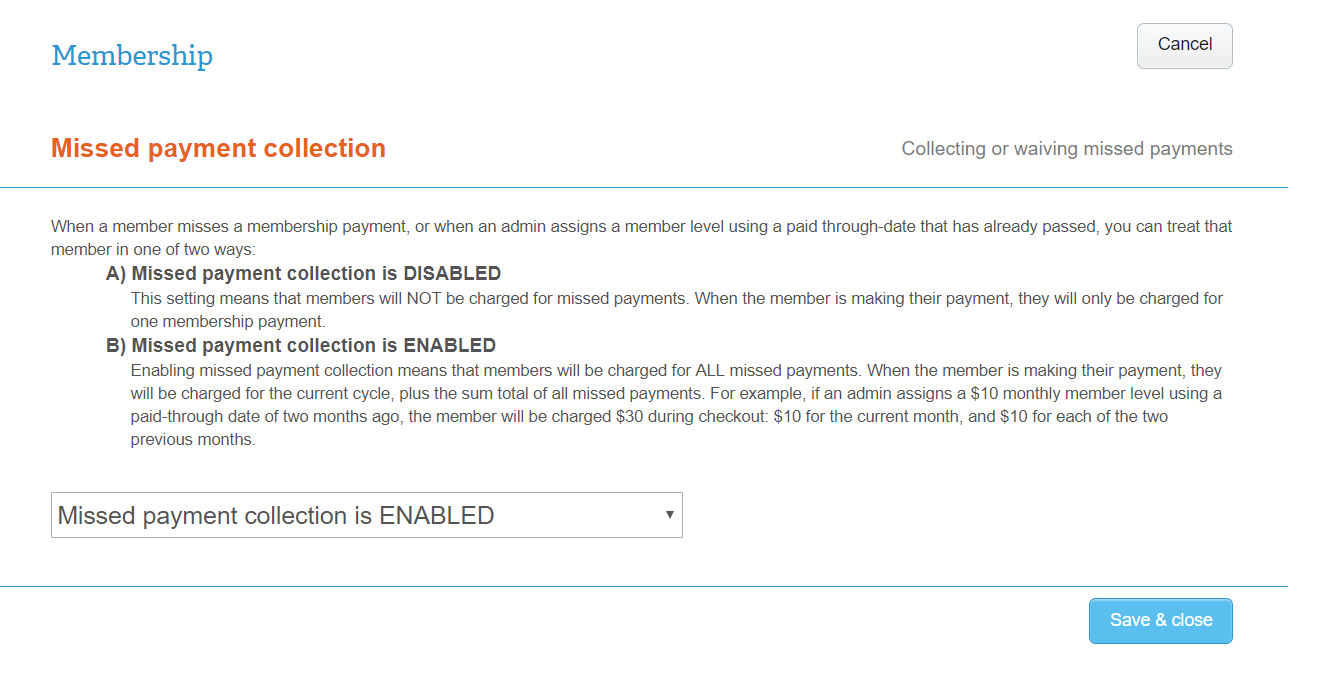 Click Save & Close
Glossary - Customize Your Membership Experience
Custom Field Label: the name of the newly created field.
Custom Field Type: the input format of the field to be populated by the member (e.g. checkbox,  dropdown menu, etc.).
Custom Field Visibility: indicates who can see the field, such as admins or all members, and whether or not the field is required before joining.
Members: the people in your organization who have the ability to log into your memberplanet group, and can engage with other members in your group.
Contacts: people you communicate with but are not members of your group. Contacts don't have the ability to log in to the group and can't engage with the memberplanet community. They can only receive information sent to them by a group admin.