Table Of Contents
Create and Manage Email Campaigns
Create and Manage Email Campaigns
Our email functionality allows admins to build and send an HTML-rich newsletter with full integration for formatted text, images, and custom hyperlink buttons. Emails can be saved as templates for easy reuse. When used in conjunction with distribution lists and Smart Lists, admins can send trackable communication to their entire group or easily tailor their message to target a specific set of recipients.
How to Create an Email
If you need to purchase additional email credits, click here
 On the left navigation bar, hover over Emails, then in the submenu, click on Send an Email
The platform has six steps to detail the entire process of creating and sending an email campaign.
Add Basic Information


Fill out the required basic information fields, then click Next.
Campaign Name refers to the title by which you'll refer to this email in your records. It only shows up in your Manage Emails tab under this name, which is not visible to members. Sender address will auto-populate if you've previously entered this information in the member info tab.
Note: The address entered in this section will automatically appear in the lower left corner of your email. You are legally required to include a valid physical postal address.
Select Email Recipients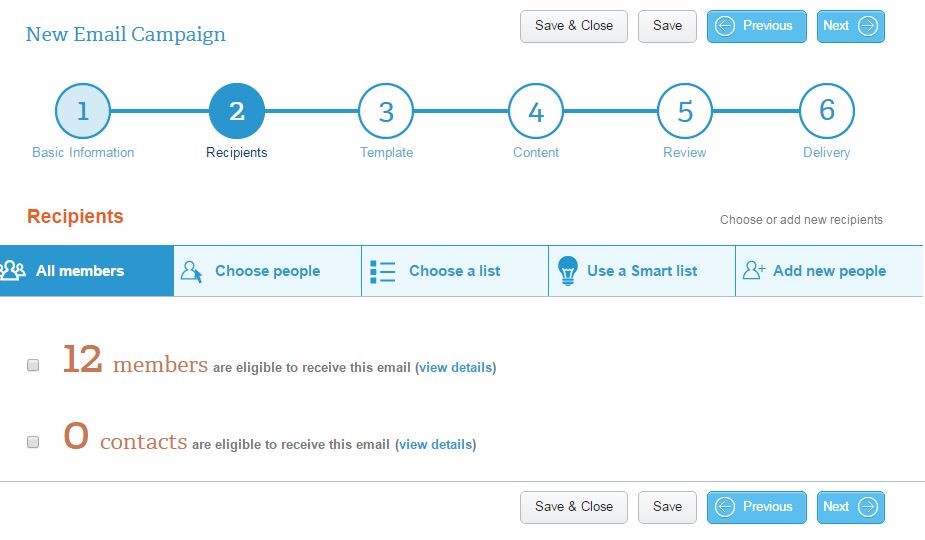 Admins can choose to send emails to all members and/or contacts. Moreover, you can send to specific group members, add new recipients manually, or from a previously-created distribution list, all with only a few clicks. There are different ways to add recipients:
Select individual members or contacts
Note: Email credits do not roll over to the next month.
Use a Smart List:
Pro and Premium subscriptions
A Smart List is a distribution list populated by dynamic queries based on member actions and statuses. For example, Smart Lists can be created based on a group's member levels, or those who've RSVP'd to an event.
In Step 2. Recipients of building your email campaign, select

Use a Smart List

Click the

Select Members By dropdown menu

and choose a category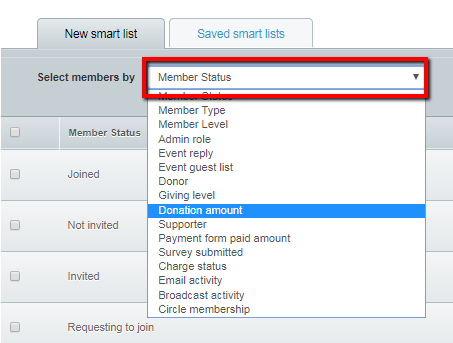 Choose a list of recipients from the list(s) that appears
Note: Depending on the Smart List you wish to create, you'll select the criteria of the list. For example, a Smart List based on email activity has the option to include members who clicked within or opened an email. If the list is based on donors, you'll select from the options of donor amount, a specific giving level, or all donors. You will have the option to view members.
To save the Smart List for future use, select the Add this to My Saved Smart Lists checkbox and name your list.
Other options for choosing recipients:
All Members

: Select to send to all your members, contacts, or both in one click.
Choose People

: Select individual members or contacts from your group.
Note: You can only add members from one page at a time using this method. Make sure you press Save & Close before moving on to a new page.
Add New People

: Enter new people not otherwise associated with your group. They can be added individually, or uploaded from a separate email list.
Note: Newly added people in this section are categorized as contacts, not members.
Choose a Template and Add Content


Templates will help you create an attractive email that is fully customizable with HTML content, buttons, and personalized elements. The template options are displayed in a filterable list.
Select the other pre-designed templates to build email that most closely aligns with your email goal. You can filter templates by organization, such as Greek, Church, or Nonprofit among others, to quickly access relevant templates.

Select

Basic Templates

to craft an email with the least amount of pre-built design, so you can fully customize your email with tables.
Save time by creating and saving email templates for future use. Access a saved template by selecting the My Custom Templates filter.
Add Content
You can customize your content within the confines of your chosen email template.
Click inside the template window to bring up the

Editor Tool
Use the editor to add your content




There are also six pre-programmed buttons that allow you to insert information from other sections of your group:
Images: Upload an image from your PC. (580 pixels)
Personalized Text: From the dropdown menu, select how you'd like to address your recipients. All information, such as name and email address, is pulled from membership data. This allows each recipient's email to appear directed specifically to them without sending one to each person.
Buttons: These are one-click elements for recipients to reach your payment forms, Donation Sites, surveys, and the join-the-group process.
Note: Only one button can be added per email.
Documents: If you've linked your group to a Box.com account, you can attach documents as files using this feature.
Form Data: Personalize your email campaign by using the recipient's answers to a question from one of your forms.
Click on

Add Follow Us Links

at bottom of the email window

 to add social media links that allow members to easily follow your group on your preferred platforms

Click on

Add Social Media links

at the top of the email window to enable sharing by members on the selected platform

Select

Add Banner Image 

(580 pixels)

to include a specific image for your email
For example, the image you use for your group page.
Preview your email creation progress by selecting either the

View as Web Page

or

Send Me Test Copy

function
Review and Determine Delivery


Once you have created your email, review to ensure all the elements, such as recipients and links to social sites, were successfully added.
Click the Save This Email as a Template button if you'd like to reuse the design. Next time you send an email, all you'll have to do is update any content changes.
Campaign Score: Use this tool to estimate whether or not the text and look of your email resembles spam or junk mail.  We recommend a score of 4.0 or less to minimize likelihood your email isn't delivered properly.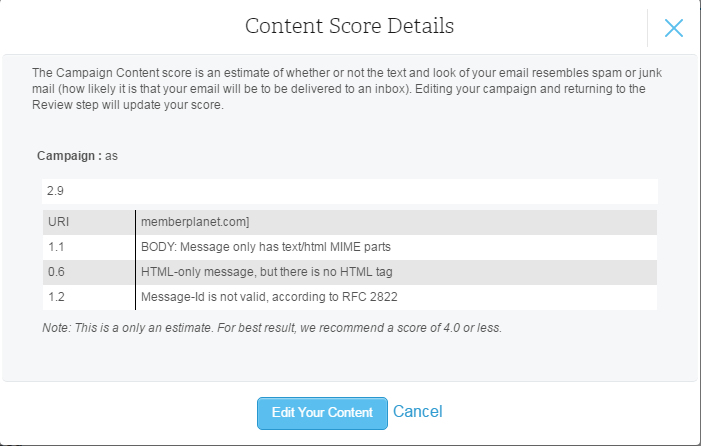 Determine Delivery



Choose one of the delivery options:
Send this email now

Send this email later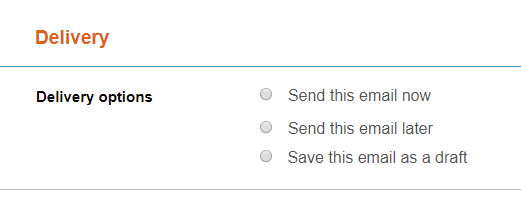 If you opt to send your email at a later date:
Enter date and time you'd like your email to send
Note: To select multiple date and times, click the checkbox and enter the remaining dates and times.
Save this email as a draft
Click Finish to complete your email creation process
How to Add Form Responses to an Email
This feature allows admins to include form responses in an email, which can be used as a customized confirmation email. For example, members can fill out and submit a payment form or registration packet. Details submitted in the form (menu selections, guest names, etc.) can be included in a personalized email to each member.
Create an email with form data to be used as the confirmation email when users complete the form. Adding form data in an email ensures accuracy – recipients will see exactly what they submitted. It also saves time – admins won't have to create each individual email.
If you are creating an email to be used as the confirmation email when someone submits your form, you will need to create the email before you send your form to recipients. You will then need to edit to your form and select the email campaign as a confirmation message.
Note: This feature requires the use of a created form and the email campaign builder. Throughout this document, we use a payment form example, although a survey form can also be used.
Learn more:
How to Create an Email Campaign
How to prep a payment form to add form responses to an email
In the left navigation sidebar, click Payment Forms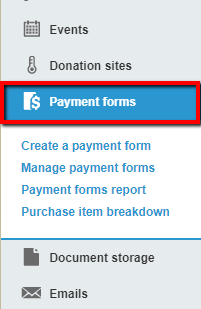 On the left of the payment form you wish to utilize, click the gear icon
In the dropdown menu, select Edit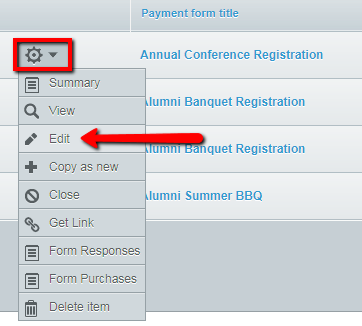 On the canvas area wherein the preview of the fields is displayed, select the Email Address field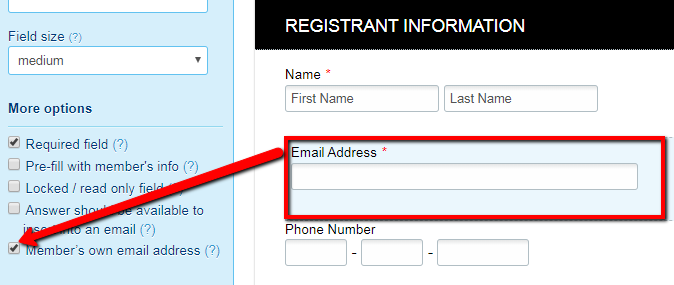 The Field Options tab will show in the left palette.
Important note: Your form must have an email address field populate with the member's own email address in order to send an email to those who complete the form. If you do not have an email address field, select the Add Fields tab and add it.
Under More Options, select the checkbox next to Member's Own Email Address
Users will be able to edit the email in this field.
Select a field for the data you wish to include in an email
In the Field Options tab, select the checkbox next to Answer Should Be Available to Insert into an Email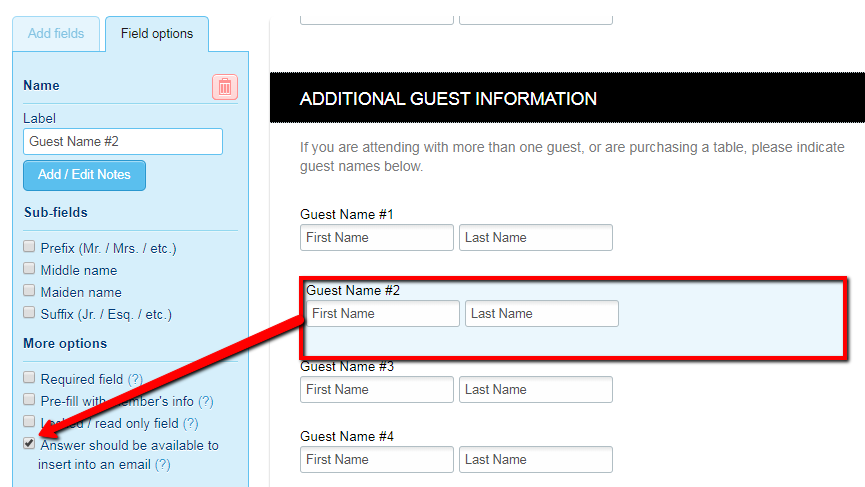 Repeat steps 6-7 for every field that corresponds to the data you wish to include in the email.
Click Next at the bottom
Select the Save & Close button
You can now navigate to your email campaign to include form responses.
How to add form responses to an email
In the left navigation sidebar, click Emails to create a new campaign or select a draft you wish to edit, then go to Step 4 in the email builder to edit your content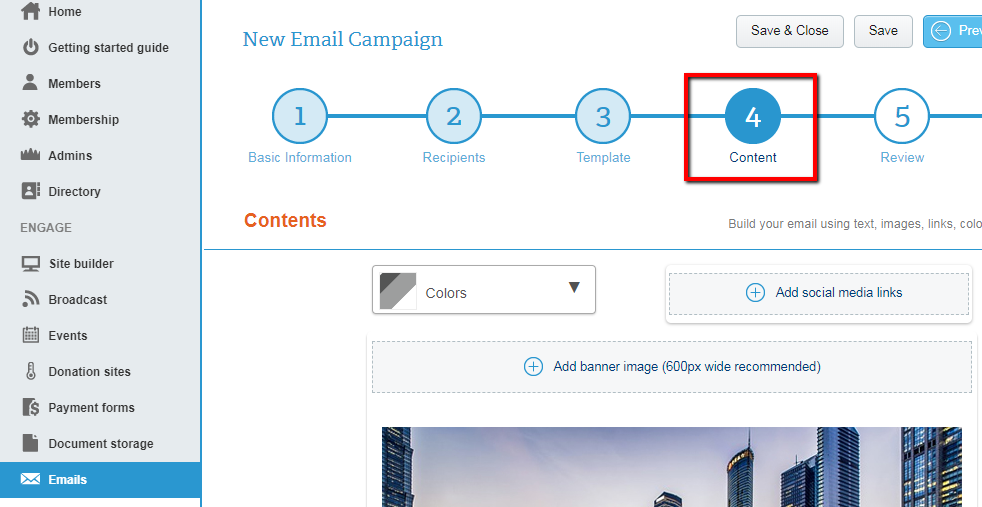 In the body of the email, place your cursor in the area where you want to insert form data, then click the Form Data button in the toolbar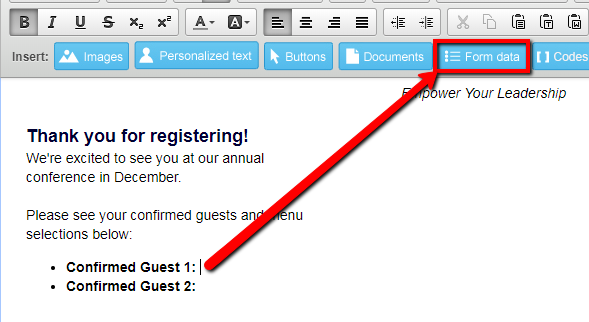 In the popup window, for the form you want to use, select the View Fields button
If you have a long list of forms, you can use the find shortcut (CTRL + F) to search for your form name.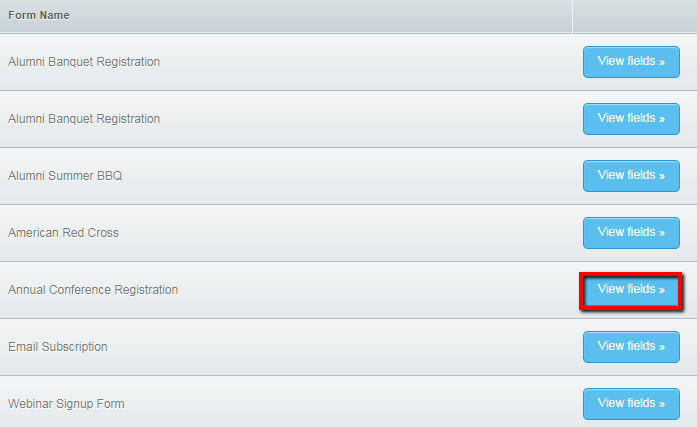 Click the Insert button next to the field attribute you want to insert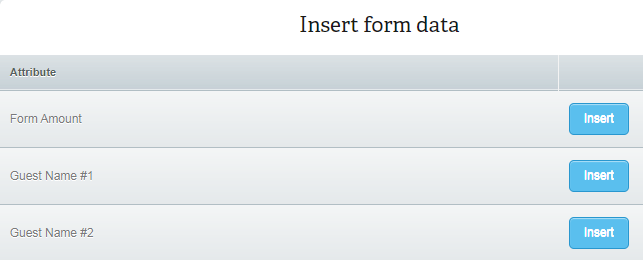 You will see a placeholder in brackets where form data will appear for the specific recipient.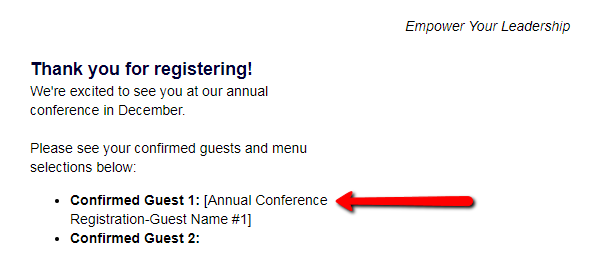 Repeat steps 2-4 until you have completed inserting form data you wish to add.
Save your email
It is a best practice to complete your form and send the email to yourself as a test to ensure the data is appearing as intended. You can copy the email to create a new draft.
If you want to use the email as the confirmation email when a user completes the form, continue to the next steps.
How to set up your email as the confirmation email when someone submits a form
In the left navigation sidebar, click Payment Forms
Select the title of the payment form you wish to use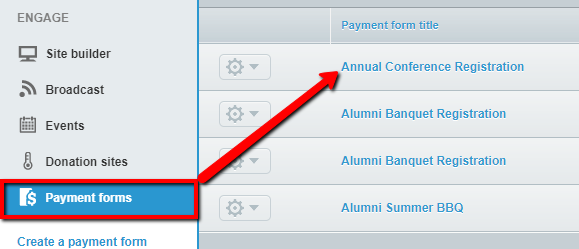 Note: You will not be able to proceed with the next step using a closed payment form. If the form you wish to use has a closed status, you will need to re-open it.
In the options listed, click Add a Thank-You Message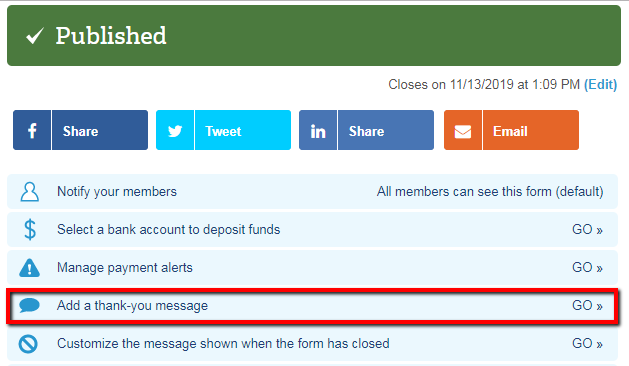 Select the checkbox next to Send an Email Campaign as a Thank-You when Someone Makes a Payment
Select your email from the dropdown menu

Click the Save & Close button
You can now share your payment form to recipients. They will receive your customized confirmation email upon completion.
How to Use Anchor Links in Emails
An anchor link allows a user to jump to a specific spot on a page. For emails, it makes navigation easier with these benefits:
Anchors let users reach a section with one click.

In a longer email where you have multiple subheadings, you can use anchors to help a user navigate more efficiently by linking directly to the beginning of a subheading section.
For example, a newsletter might mention announcements or a table of contents at the top with links going to sections farther down the email for more details.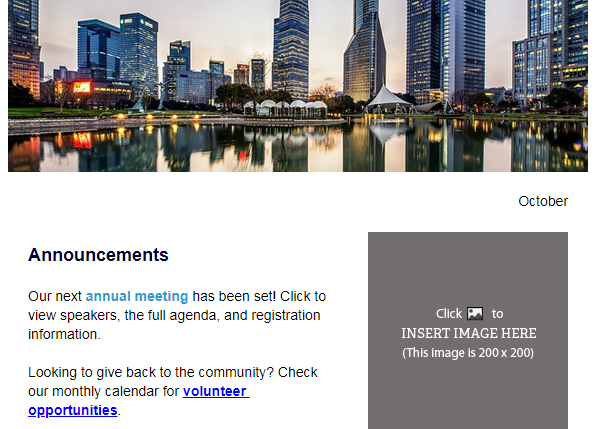 To set up an anchor link in an email, you must first create an email campaign in memberplanet, then set up the anchor or the spot the anchor link will go to.


How to set up an anchor
After you choose your template and are working on the content of your email, you will see these editing tools when you click in the body the email builder. The flag icon is the anchor button.



In the body of the email, use your cursor or mouse to select the subhead you will be anchoring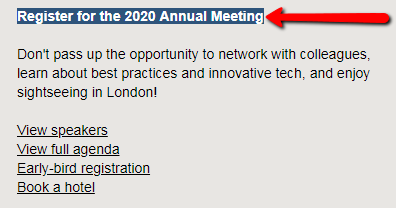 Click the flag icon in the editing toolbar

In the popup window, type in your anchor name
Important note: The name you give your anchor must be unique within the document. You should not use spaces and special characters since this will be used in the anchor link. Keep in mind that the anchor name is also case sensitive.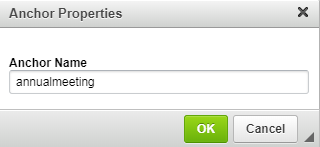 Click OK
The text that you have set as the anchor will have a flag in front of it in the email builder. Recipients will not see the flag or any indication that the text is anchored. Now that you have set up the anchor, you can create the anchor link anywhere in the email.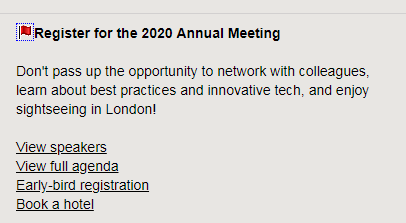 How to set up an anchor link
Select the text you want to link to the anchor

In the editing toolbar, click the link icon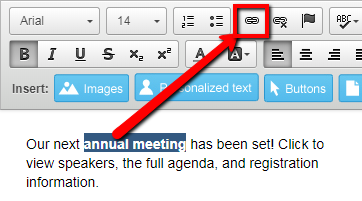 In the popup window, click the Link Type dropdown menu and select Link to Anchor in the Text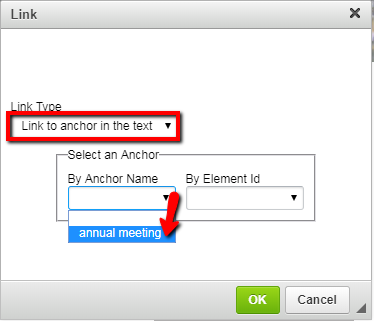 An option to select an anchor will appear
Click the dropdown menu under By Anchor Name and select the anchor you wish to link to
Click OK
Your anchor link has been created. We recommend that you save your email and send yourself a test copy to check that the links go to your intended anchors. If you find that the anchor isn't working, check to make sure you have not used any spaces or special characters in the anchor names.
Advanced Email Techniques
 These more advanced functions allow for enhanced customization, coding, and testing techniques using HTML, to make the most of the platform's email functionality for your group.
How to use tables
If working within a template doesn't suit your needs, an email can be built completely from scratch. Tables allow admins to create an email purely from their own vision. Building through tables is a highly specific task, therefore these instructions will take you through some vital elements in each step of the process in general. This is not intended to encompass all options available.
Select a basic template

Delete the basic information from the template

Click inside the email window to bring up the editor toolset

Click on the table icon in the editor toolset

 

Decide how many rows and columns you want in your email

Best practices:
Set your table width to 580 pixels regardless of the content you'll be adding. This will prevent any of your text from bumping against the outermost edge of the email.

Enter the width of your center column to ensure your other column's content doesn't run into each other.
How to use borders 
Creating a border around your email isn't required, however it does give your email a frame that increases its professional appearance.
To create a border, simply add another column and row to your table. For example, a 3x3 table will become a 4x4 table to incorporate a border.
To add color to your border, right click on each cell, select Cell Properties and change color.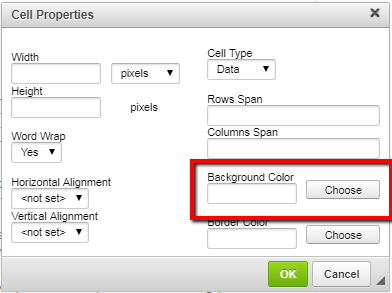 Note: Colors can be set using RGB or the hex code.
Best practice: If using a border, it's a good idea to also add a padding column and row to your table. This should be set at 10 pixels. This padding will ensure your images and text don't run into the border edges to create a visual mess.
How to use columns/additional tables
You can continue to modify the design of your email by adding more tables within your central table. Repeat the table creation process for each element you wish to add. For example, if you want to add a picture to one of your columns, creating a sub-table will allow you to place that image exactly where you want it without ruining the other table design elements.
When adding additional tables, it is important to also add an additional column for padding. Similar to the border padding, table padding allows your inserted element to have a defined space within the email. Think of a photo in the middle of a newspaper column, and how the words flow around it without the column turning into a zig-zag.
Best practices:
Before adding images, resize them to 150 pixels.

If you don't have edit image software: Perform a browser search for "Image editor." Any of the numerous, free results will guide you through editing your image to the correct pixel size.

Be sure to select a font and to set a font size for the text of your content.
How to use HTML
If you prefer to build your email using HTML code, or to make edits directly to the source code, simply click on the HTML tab on the editor tool. This will bring up the HTML code for you to work in.
Note: You can tag your edited HTML code to easily locate the changes you make.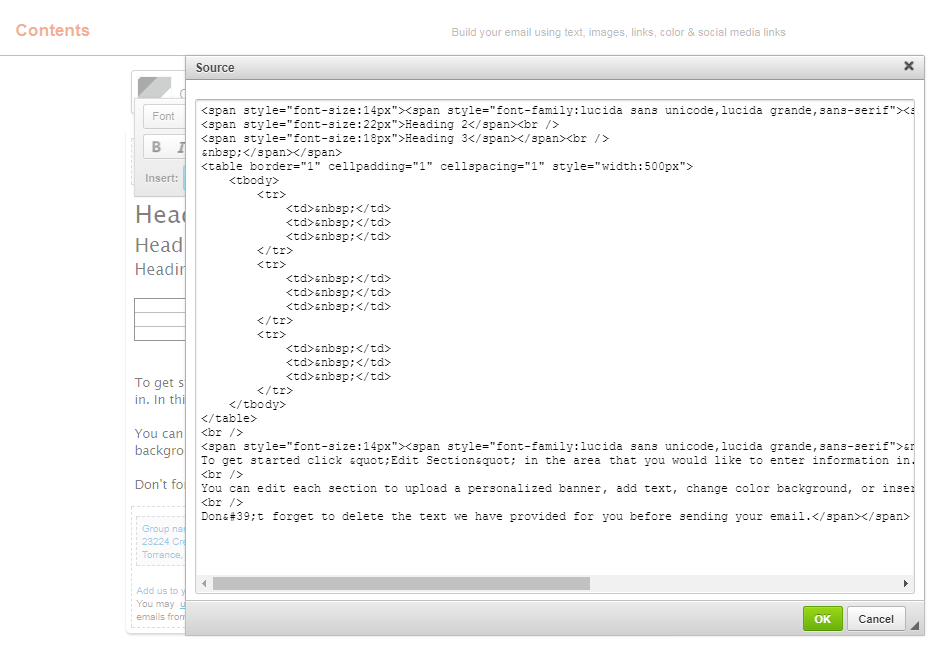 Once you've added your table, right click on it and select,

Table Properties

Within the

Table Properties

window, select

Advanced

 

In the ID window, enter your tags

Search for them from within the HTML editor window
Sending test copies to multiple email client servers is the best way to ensure that your email looks correct regardless of the recipient's email client. At least check recipients with a @gmail, @yahoo, and an @outlook email server to be sure you've hit the majority of recipients' email clients.
Add a "Join Our Group" button to your emails
Embedding a "join our group" button is  a great way to invite members to join and submit information for your membership database.
Hover over

Membership

on the navigation menu

Click

Membership Dashboard

from the sub-navigation menu

Scroll to the bottom of the options and select

Create a Join Our Group Button for Your Email Campaigns

Select the button of your choice, or upload a different image, then click

Save & Close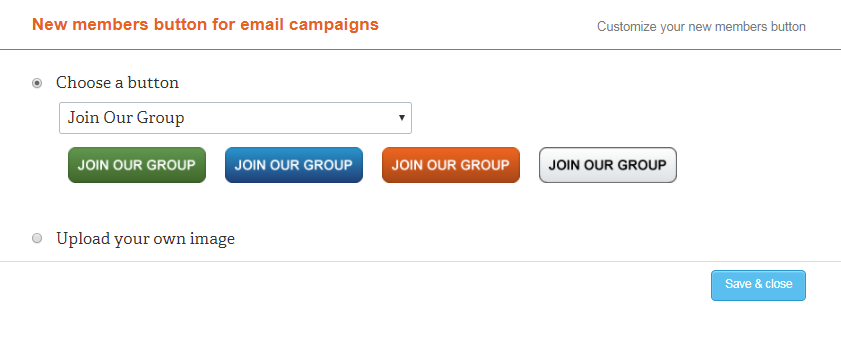 Note: If your membership is approval only  members will still need to be approved before they are officially added to your member roster
Add a button to your email
Buttons provide a quick and easy way for your audience to access all kinds of content you create on memberplanet. Depending on the type of content, buttons offer different kinds of perks to your users.
From within the email editor, place the cursor in the area of the email where you'd like to insert your button

Click

Buttons

in the toolbar

A popup window will appear with a dropdown menu of your button options; from the dropdown menu, select the type of button you want

Click

Go
Note: Only one button can be used per email.
Merge a Form Field into an email
This is perfect for sending a confirmation email for guests or registrants stating their registration preferences, like menu choice or plus one options.
Open the editor for the Payment Form or Survey you want to merge fields from

If you have not already, include the

Email Address

field on your form

Click on the

Email Field

on your form, the blue tab to the left will reveal

Field Options

Under

More Options

check the boxes

Required Field

and

Member's own email address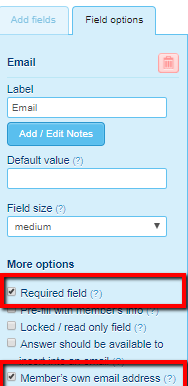 Note: For each field you'd like to merge: click to highlight the field (revealing field options to the left), check Answer Should Be Available to Insert Into an Email.
Note: If the field is non-optional, be sure to also check Required Field box in addition to Answer Should Be Available to Insert Into an Email. If you don't make a field required some people may skip it and the merge tag space will be blank in their email.
Manage and Track Emails
Our email tracking functionality allows admins to monitor all sent emails and and manage drafts, as well as scheduled emails, in one area. Being aware of your tracking information allows you to know what is working and what isn't, quickly. Use that information to help decide which emails become templates for later use.
Manage emails
On the left navigation bar, hover over

Emails

Click on

Manage Emails

from the submenu

Choose which of the following information tabs you want to view:

Sent: Explore details of emails you've sent. Click on the gear icon to reveal options for viewing, resending, copying, and deleting the email.
Drafts: View all the emails you've created, but haven't sent.
Scheduled: Emails you've completed and set to be sent at a date/time in the future.
Tracking: View details about receipt details for emails you've previously sent.
Bounced: See a history of emails that were returned undeliverable. This includes recipient details, such as name and email address sent to.
Unsubscribe: View who has opted to receive emails from your group anymore. This includes recipient information and a comment section.
Spam: See which emails have gone to a member's spam folder.
View email tracking
Email tracking allows you to view stats on all your emails sent from the platform. Search for the campaign name or select a date range. View whether your email was delivered, bounced, opened, clicked, unsubscribed or it went to the spam folder for all recipients. Tracking is incredibly useful not only in determining which emails are effective, but also in choosing whom to communicate with. For example, send another email to members who haven't opened previously sent emails, or to those who haven't clicked on a call to action, such as an RSVP link, to find out why. It also aids in determining why emails are bounced, or not able to reach the recipient due to incorrect email addresses, invalid recipient information, etc..
On the left navigation bar,

click on

Emails

Click on the

Tracking

tab
Note: The default date range for tracking is set at one month. To view tracking information for a wider date range, select the calendar and adjust.
You also have the option to export data to an Excel spreadsheet by clicking the Export button.

Sending Emails From A Custom Domain
If your group would like to send emails from your memberplanet group with a custom domain (e.g. @memberplanet.com is our domain) instead of a generic one like @gmail.com or @yahoo.com, you will need to complete the below steps within your domain provider before sending emails.
Step 1: Root domain
Please provide the root domain(s)
For example, "@memberplanet.com" is the domain emails are sent from memberplanet
Step 2: Add a Sender Protection Framework record
Add a Sender Protection Framework record (SPF) add a DNS record for better email deliverability.
Please add the settings below for SPF (https://en.wikipedia.org/wiki/Sender_Policy_Framework)
Option 1 - If you do not have an SPF record for your domain
Create a DNS TXT record with the following values:
Host Name : @
Record Type : TXT
Address : v=spf1 a mx include:sendgrid.net include:memberplanet.net ~all
Option 2 - If you already have an SPF record for your domain
Note: The SPF text record will need to be combined with the SPF text record for your email provider if you are using another email provider, such as Google Apps, Zoho, Office 365.
Host Name : @
Record Type : TXT
Example - if you are already using Outlook, the address would look like this:
Address : v=spf1 a mx include:spf.protection.outlook.com include:sendgrid.net include:memberplanet.net ~all
Step 3: Enable DMARC
If DMARC is already enabled, you may skip this section.
If you are new to setting up DMARC, please review this link for more information: https://www.agari.com/email-security-blog/dmarc-setup/
A DMARC policy allows a sender to indicate that their emails are protected by SPF and/or DKIM, and give instructions if neither of those authentication methods passes.
**Please be sure you have a DKIM and SPF set before using DMARC.
If you do not have a DMARC record, please add a TXT record to your domain with these details:
_dmarc.<your_domain>.org
v=DMARC1; p=none
Step 4: Enable Domain Authentication
Once you confirm that steps 1 through 3 are complete, we will provide a DNS record that you will need to add to your environment.
Glossary - Create and Manage Email Campaigns
Contacts: Contacts don't have the ability to log in to the group, and can't engage with the memberplanet community. They are only available to receive information sent to them by the group admin.
Smart List: a distribution list populated by running dynamic queries based on member actions and statuses. For example, Smart Lists can be created based on a group's member levels, or those who've RSVP'd to an event.
Personalized text: an auto-populated element, such as name or email address, that is based on the individual recipient, and pulled from the member database section of your group. This allows each email recipient to receive a personalized email.
Button: a one-click element for quick access to payment forms, Donation Sites, surveys, and the join-the-group process.
Campaign name: the name of your email, which is not visible to recipients. For example, "April update" or "Spring Newsletter."
Anchor link: clickable text on a website or email that allows a user to jump to a specific spot on the page upon clicking.
Template: a pre-formatted email that you can replace with your own content so that you can quickly and easily create emails.