Table Of Contents
Creating Polls
Creating Polls
Organizations no longer need to have their members vote at a specific location, guard the ballot box, and manually tally and record votes. Our secure polls functionality does all that for you, and you get many more options (way more than social media) to professionally customize polls for your group.
How to Create a Poll
Enterprise plan
Administrators can create a poll in minutes, and it's a powerful tool to facilitate secure, online voting for officer elections, awards, or anything else for your organization. Admins have the flexibility to customize who is qualified to take the poll, answer types, start and end times to access the poll, the data displayed in the results, and more. They can choose to make submissions anonymous or require users to submit their names. Polls can also be created with more than one question – there's no limit. Get started by following the steps below.
In the left navigation sidebar, click Polls
Click on Create a New Poll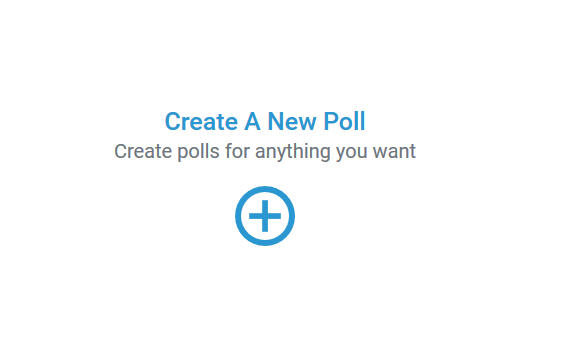 Create a title for your poll, and answer the questions about what type of poll you're creating:
Decide if your poll is public or by invite only
Note: Private polls can only be viewed by invitation. Those who are not on the participant list will not be able to view the poll, even if someone attempts to share the URL. 
You can select a poll start and end date and time
Determine visibility settings for your poll results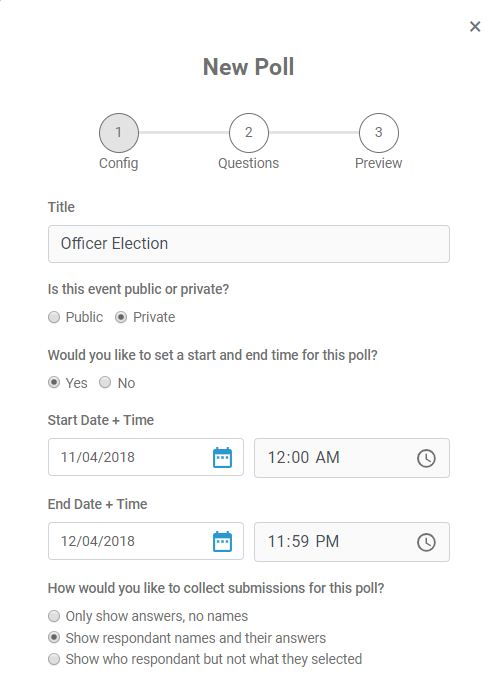 Add any specific messages or instructions for the following:
Intro: You can provide information about the poll before members take it
Thank You: Include a customized thank-you message when members complete the poll
Closed Poll: Provide a specific message for members attempting to take the poll after it has closed
Footer: Include any messaging that will appear at the bottom of the poll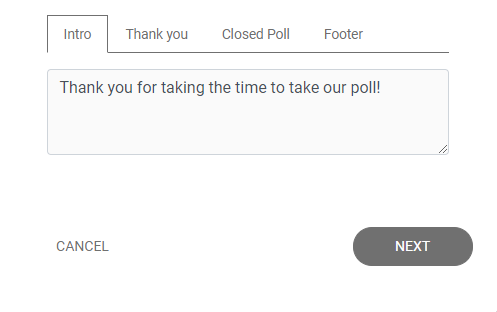 Click Next to continue
Enter your poll question
Select the question type from the dropdown menu:
Textbox: A field will be provided for members to type in their answer.
Dropdown menu: You'll provide the answer choices, which will appear in a list for members to make only one selection. Members will need to click the dropdown to display the options, then make a selection.
Checkbox: You'll provide the answer choices, and members will be able to select more than one option.
Radio button: You'll provide the answer choices, and members will be able to select only one.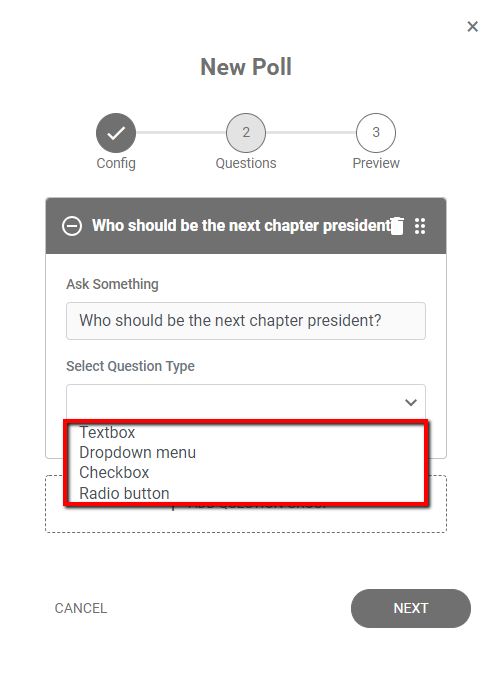 Create the poll answers for the type of question you've chosen
If your poll includes multiple questions, click Add Question Group, then repeat steps 6-8.
Note: You can create as many questions for your poll as needed. There is no limit.
Click Next when you've completed adding questions/answers
Preview your poll and select either Save Draft or Publish when ready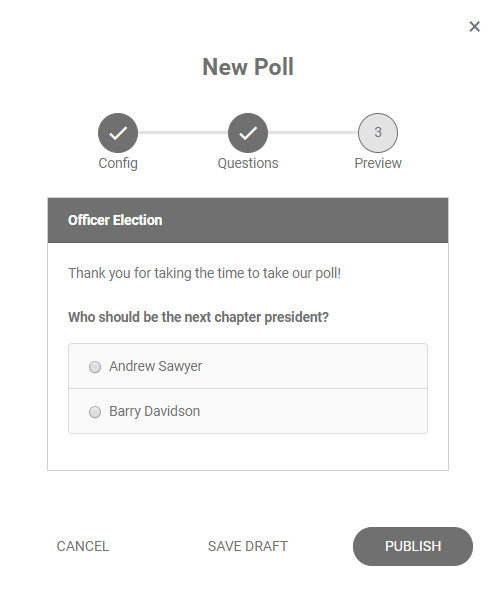 If you need to go back and make edits, you can click Config or Questions to navigate to those sections.

Note: The preview is only a sample view for you to see all the questions and answers on one screen. The actual published poll will only show one question group per screen. If your poll has more than one question, members will be required to select or type in an answer and click the Next button to view the following question groups.
Once published, you can share it via the provided URL or invite members to view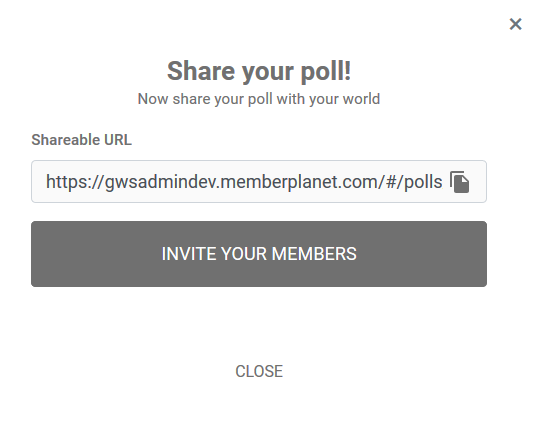 How to Edit, Delete, or Close a Poll
Enterprise plan
This is how you can edit poll details, delete a poll, or manually close a poll to respondents.
In the left navigation sidebar, click Polls
Locate the poll you wish to edit in your dashboard and click on it
Click the corresponding button to Delete or Close your poll
Note: If you delete a poll you will also delete any data associated with it.
You can reopen a closed poll by clicking Edit on the poll and reconfiguring its end time

To edit a poll:
Click on the poll you want to edit
Select Edit from the menu bar
Make any desired changes to the poll configuration, questions, or customizable messages
Click Save Draft or Publish to save your changes
To pause a poll:
Pausing a poll is similar to unpublishing a live poll, but it allows you to resume it without having to adjust any of the poll's configurations.
In your polls dashboard, click on the title of the poll you want to pause
In the top menu bar, click the Pause button
To resume a paused poll:
In your polls dashboard, click on the title of the poll you want to pause
Click on the paused poll
Select Edit from the menu bar
Navigate to the third step, Preview
Click Publish
Share a Poll or Invite Participants
Enterprise plan
In the left navigation sidebar, click Polls
Click on the more icon (three dots) for the poll you wish to share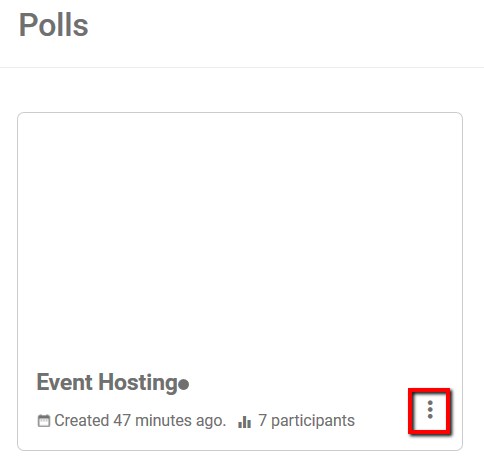 Click Share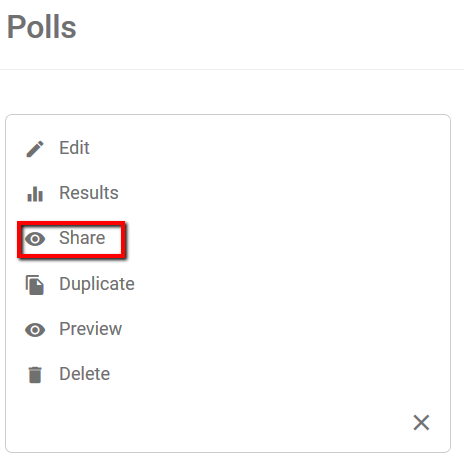 Copy and share the URL or click Invite Your Members to select one of three options:
Add Manually: Enter the name and email addresses for those you want to share the poll with
Choose From Group: Share the poll with either all your members, your group's contacts, or both 
Choose From List: Select members individually from your roster to share the poll with
Note: If your poll is private, you cannot share it via the URL provided. Only those invited to participate can view and take your poll. Anyone who attempts to view the poll outside of your participant list will receive messaging that they do not have access to view the poll.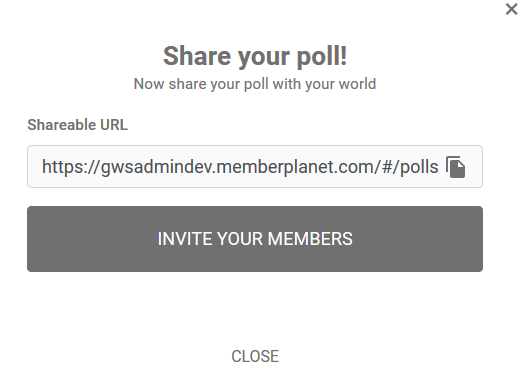 You can easily toggle a poll from public to private by clicking on the lock icon beside the poll name

View and Export Poll Results
Enterprise plan
Admins can view poll results in real time without the hassle of waiting for tabulation. The data is presented both as a list of individual responses and as a pie chart for better graphical interpretation of the data. Results can easily be exported as an Excel spreadsheet.
In the left navigation sidebar, click Polls
Click on the more icon (three dots) for the poll you want to view results for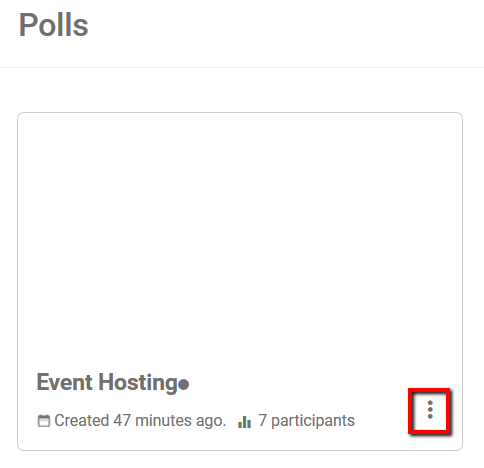 Click on Results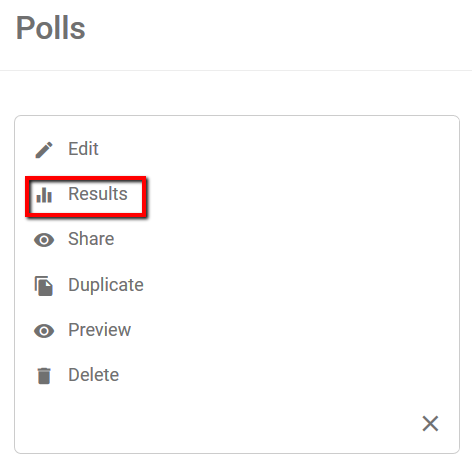 Click on any of the question groups displayed or the + symbol to view the poll results for each question

Depending on the configuration to create a poll, your results will show:
The names of voters unless you set responses to anonymous
The dates and time they voted
The answers submitted
Which participant or number of participants who haven't yet voted
Your results will also appear as a pie chart for easier breakdown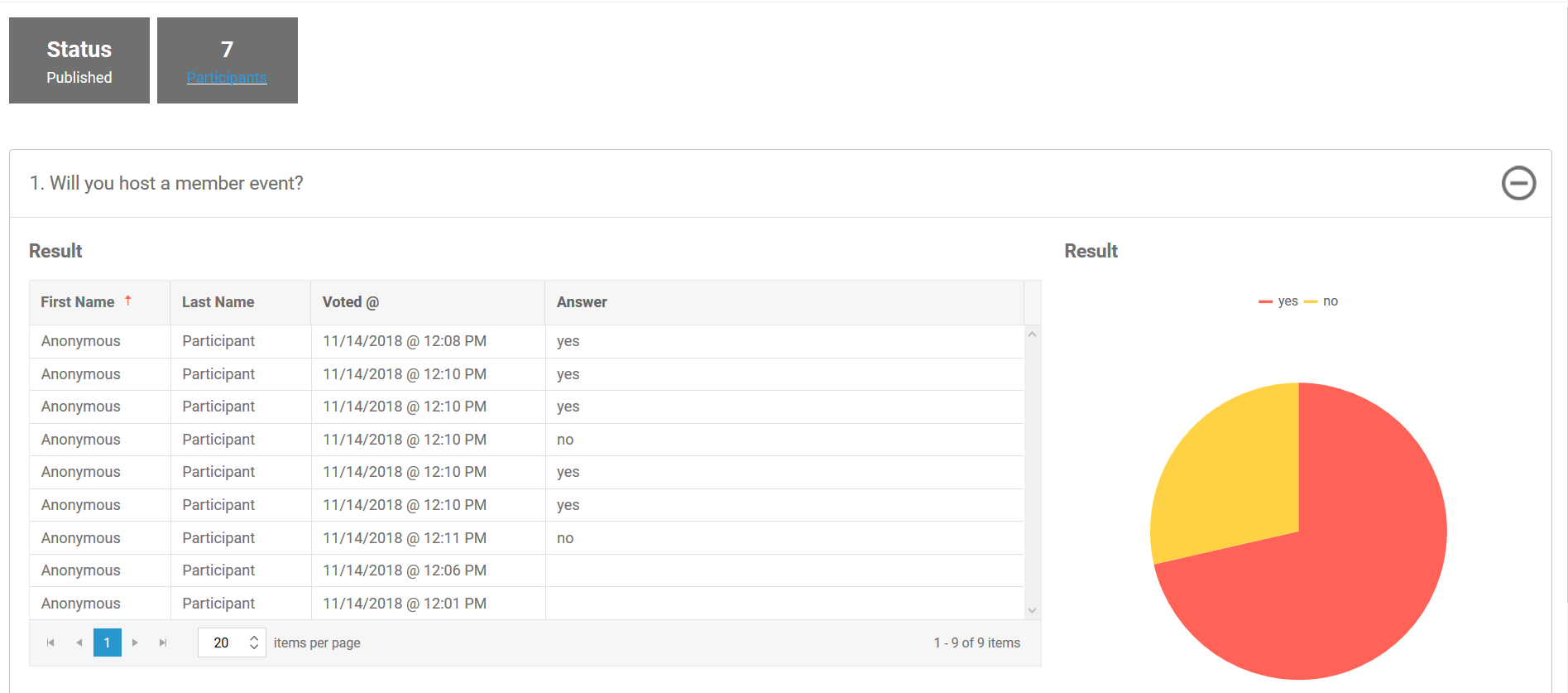 To export poll results:
Click on the more icon (three dots) for the poll you want to view results for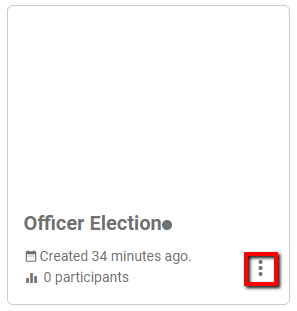 Click on Results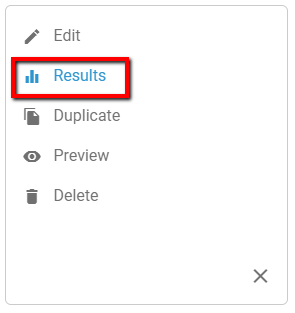 Select Export