Table Of Contents
Set Up and Edit Installment Payments
Set Up and Edit Installment Payments
Admins can access membership reports at any time in the Reports section of the main menu. Installment payments are a set-and-forget feature that allows users to pay for a service/goods in increments or donate periodically without any friction on their part. Offering installment payments is part of a modern experience that users have come to expect. (Compare that to users having to find a checkbook every time you ask for a donation.) Your Membership reports will also show all data pertaining to members' payment schedule and status.
How to View Installment Payments and Schedule
An installment payment plan is a recurring payment that gives members flexibility to make larger purchases without having to pay for them up front. Admins can only view and cancel active installment plans. Only members can set up and change their installment plans. Learn more: How to Stop Recurring or Installment Payments (Member View).
To view all members currently on installment plans:
Click on Reports on the left-hand navigation bar
Select the Installments

To view an individual member's installment schedule:
Locate on the member you want to view
Click the gear icon beside their name
Select View Details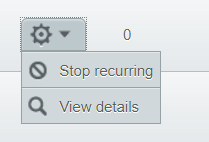 To stop a member's installment plan:
Locate the member from the list
Click on the gear icon beside their name
Select Stop Recurring to cease the installment plan
Related Article: How to Stop Recurring or Installment Payments (Member View)