Table Of Contents
Invoice Your Joined Members
Invoice Your Joined Members
Invoicing or "QuickPay" is an option to bill your members if you need to collect a one-time donation, membership payment, or returned-payment fee. Unlike payment forms, this feature is only used to collect payments, not information.
How Do I Invoice My Joined Members?
Hover over

Invoices

on the left navigation bar, and click

Add a QuickPay Charge

Name your charge (Example: "Membership Dues 2015")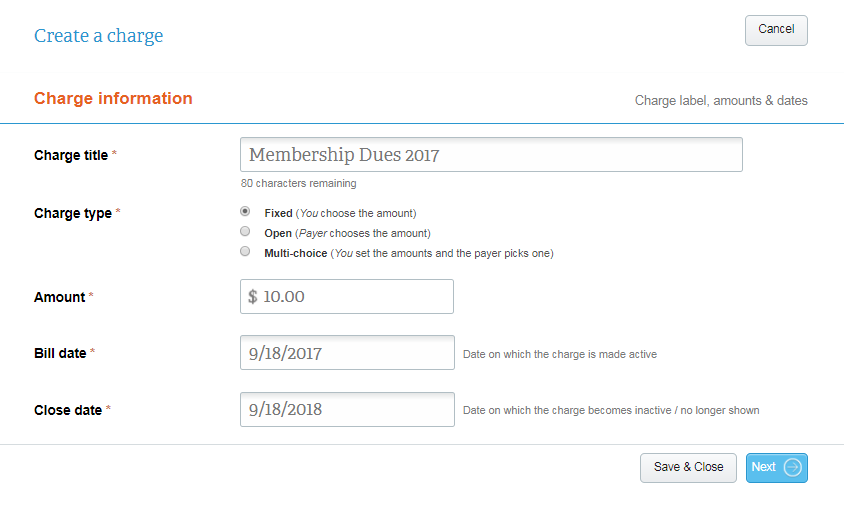 Choose a

Charge Type:
Fixed: one exact amount (Example: $10)

Open: payer can choose how much they want to pay (Example: donations)

Multi-choice: payer can choose one of multiple options (Example: kids membership, parent membership, family membership)
Select a

Billing Date

and a

Close Date

Select members for your charge: check members from your list, choose a distribution list, add new members, or apply charges to all members

Click

Next

Send an email announcement
You can skip this step by un-checking the box at the top.
Your email will include a direct button for each member to pay their charge

Customize the subject line and body text by hovering the mouse and clicking

Edit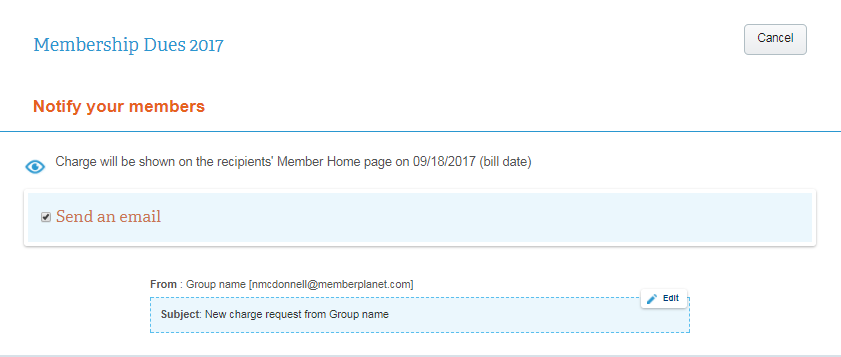 Click

Save and Finish

below
Manage your invoices
When creating a QuickPay request, you have many options to customize your request for you members. Here are the options you have, including QuickPay advanced options:
Click

Invoices

on the left navigation bar

Select

Manage Quickpay Charges

Click directly on the charge name under

Description

Here you'll be able to manage all aspects of your QuickPay, including additional features were not displayed in the building process:
Schedule an email about this charge

Select a bank account for funds to be deposited to

Customize your payment alerts (get notified when a member pays)

Add a thank-you message (members will automatically receive this email upon submission of payment)

Edit more charge settings
Enable members to make partial payments

Show/hide the decline button - payer may decline the charge

Auto-assign the charge - charge is NOT automatically assigned to new members unless enabled
Manage recurring payment options

Create a Pay Now button for email campaigns
The right side column also includes some notable additional options, including:
View reports - view your payments received for this particular QuickPay charge

View email history - view when you last sent an email charge request

Add more recipients - assign additional members manually to receive this charge

Send a reminder email - this option lets you send to all members who have not yet paid (including those who have already been notified), or to just members who have not yet been notified of their charge

Record an offline payment (cash/check)

Close charge - members will no longer be able to view or pay for this charge once closed
Glossary - Invoice Your Joined Members
QuickPay: invoicing to collect and manage payments from members.