Table Of Contents
Getting Started
Getting Started
Not sure where to start? Our guide will have you up in no time.
Getting Started Intro
Watch our video to get an overview of the steps to get your organization set up on memberplanet. 
Customize Group Logo and Information
Customizing your logo and group information allows you to brand your group with specific details to meet your organization's unique needs. Completed information will be visible to your members in several places, including your Group Site, events page, and in emails.
Complete Required Group Information
On the left navigation bar, click on

Group Info

Complete the required fields:

Name of the Group

,

Primary Contact Name

,

Primary Contact Email

, and

Time Zone
How do I add a custom logo to my group?
A custom logo makes your group easily recognizable to your members. It helps your group stand out among other groups to potential new members.
Hover over the generic group image to bring up the

Change Image

option

Click

Change Image

to bring up the

Upload Image

selector

Click the box to bring up the image locator, or drag and drop your preferred image in the area to upload
Note: Image must be 200 x 200 px to fit properly. If you don't have image editing software, perform a browser search for "Image editor." You'll have numerous, free results to guide you through editing your image to the correct pixel size.
Complete the About Us and Address Field sections
These sections will help to better explain the details of your group to new and potential members. Completing the address information will allow it to auto-fill on emails being sent and on your Group Site, which is the all-in-one interface for your members.
Click into the

About Us

text field

Fill in the details that best describe your group

Complete the

Address Fields

as they apply to your group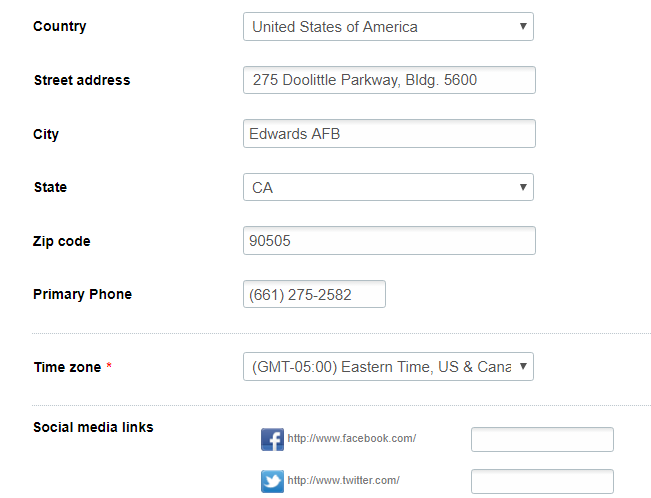 How do I add my group's social media links?
If your group has social media accounts, including links to them here will help increase your group's interaction across them. With one click, all social media links can be added to emails.
Complete the information for the social media links you wish to provide
Note: Only enter the portion of the URL that is not displayed, which is after the social media platform's root domain URL: http://www.facebook.com/YourGroup. Entering in the entire URL will cause your links to appear broken. 
Save

your changes
Personalize Your Database and Add Members
You can gather as much or as little information from your members to meet your group's needs. Adding custom details to your group's required information section helps address other needs specific to your group, such as emergency contact info or T-shirt size that members need to provide.
Choose required profile fields
Potential new members of your group must fill these out before being able to join. Once completed, these basic fields make managing your group easier.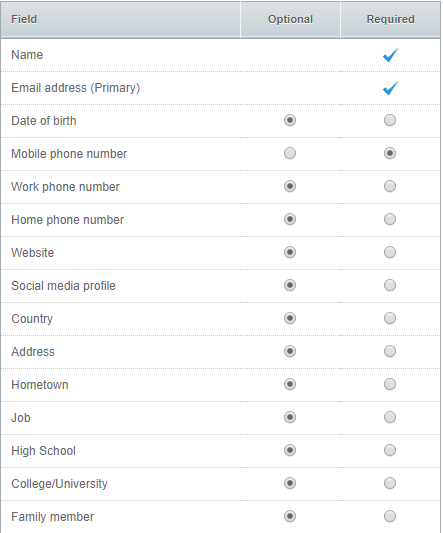 On the left navigation bar, click

Membership

In the

Joining Our Group

section on the main screen, select

Member Profile Information

Choose which

Profile Fields

new members are required to provide from the list

 
Add custom fields to your group's database
Unlimited custom fields can be added, allowing your group as much detailed personalization as needed.
Click on

Membership

Select

Custom Fields

Click

Add a Custom Field
Note: If you are collecting data from European Union citizens, this is where you can add a required checkbox to receive consent. This is required for General Data Protection Regulation (GDPR) compliance.
Fill in the required information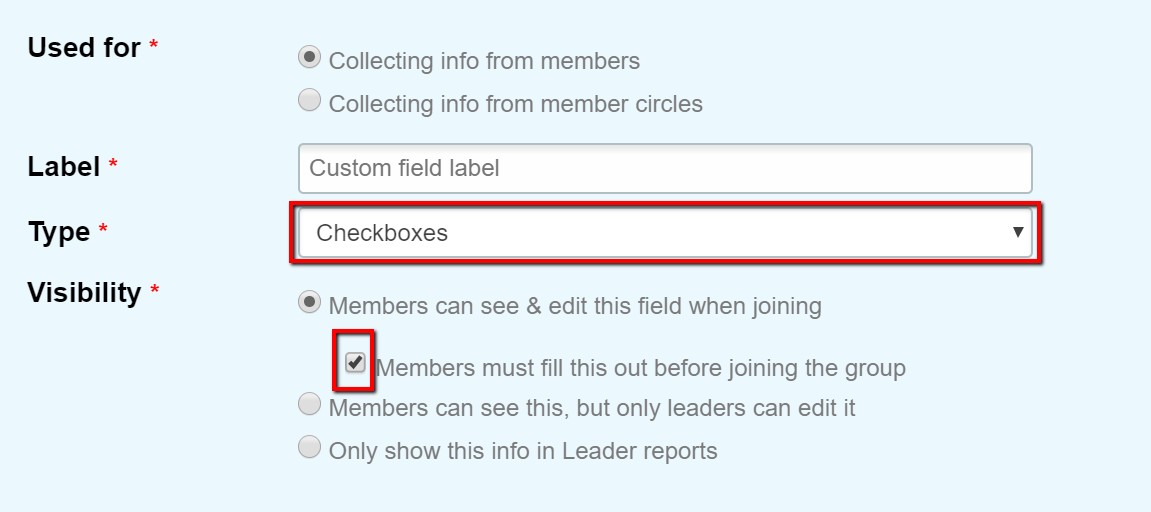 Note: Label is the name the field will be given. Type is the format in which the field will be populated by the member. Visibility indicates who can see the field, and if it is required before joining.
Repeat steps 3-5 to add additional custom fields
Click

Save & Close

when you're done with all custom field additions
The best time to ask for member details is when individuals are signing up as new members; this is the time they are most engaged. However, if you add a new custom field after a member has joined, you can send a profile update request to refresh information.
Add new members
Adding new members from a file you've already created is a fast and easy way to build your database. This can only be done using a previously created Excel spreadsheet with your member information already populated within it.
On the left navigation bar, click Members
Select Add People
In the Add New Members section, click Get Started
Across the top, select From a File
Click Browse to locate your member list Excel file, and then Open
NOTE: Select the checkbox if your Excel file has a first row for identifying information in columns, such as name or phone number.
Select the Upload button
 The resulting window is a preview of your database.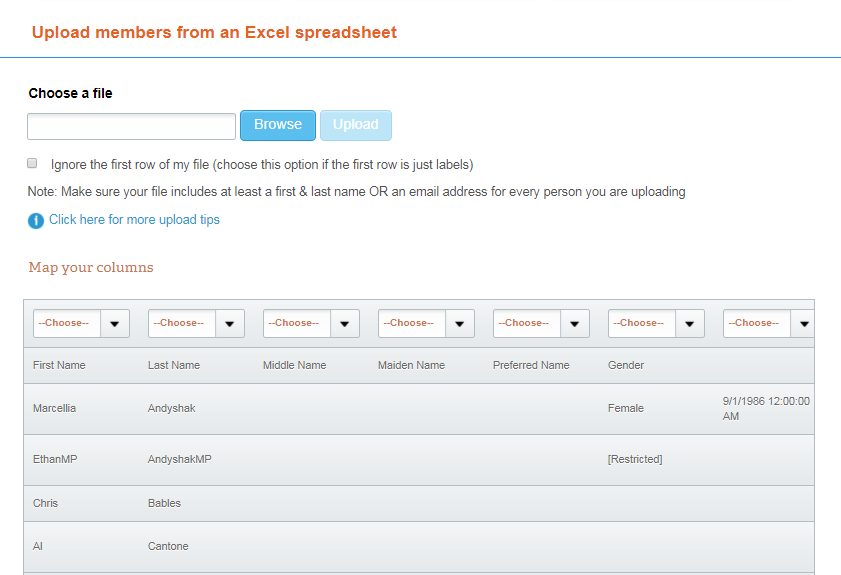 Select and map each column header with the name of its corresponding data set
Note: You can add a custom column by scrolling to the bottom of the dropdown menu, typing in your custom field, and clicking the + button. You will then be able to map your custom field column. 
 After you map all the columns, click Add Members
Choose the Right Subscription Plan for the Best Value
Selecting the proper plan will keep your usage costs at a minimum, allowing you to maximize the features of your plan without worry. Follow the steps below to upgrade from a Basic (free) plan.
On the left navigation bar, click 

Subscription

 in the Account section

Select 

Upgrade Now

 to see the features and details of our 4 subscription plans

Determine your group's frequency of use of our features

Select the appropriate plan based on all your group needs
How do I choose the best plan for my group?
You can always check out our most up-to-date subscription plans on our Plans & Pricing page. If your organization has child groups or has a multi-tiered/chapter-based structure, and requires custom API integrations to connect to your database or financial system, please visit our Enterprise pricing page and fill out the form for a memberplanet representative to contact you.
Fees: 
Processing Fee is a flat fee that covers the costs of charging and processing transactions. Platform/Site Fee is a variable fee based on your plan level that allows us to provide uninterrupted service to your group.
Note: You can call us at anytime and we'll review your group and its needs with you to ensure you're selecting the correct plan for the best value.
How Do I Set Up My Group to Process Payments?
The ability to accept payments in ways other than cash or check can make fundraising, dues collection, and any other need for processing money much more convenient.
Add a new bank account
On the left navigation sidebar, select

Banks

in the Account section

Click on

New Bank Account

Enter the details of your bank account
If your organization uses multiple bank accounts to collect funds, you can set those up on memberplanet and avoid having to do account transfers later. For example, you can add a bank account just for donations, and a second one for payments. Separate accounts are only visible to administrators with bank accounts permissions.
Verify my bank account
You are able to receive payments once you've completed your basic bank account setup, however no funds will be transferred to your account from memberplanet until you complete the verification. To complete banking verification, you must provide a scanned copy of a government-issued ID.
Please see How to Add and Verify Your Bank Account for full details.
Get the Most Out of Your memberplanet Experience
Congrats on your decision to use memberplanet! We pride ourselves in catering to every type of group leader on the planet. We recognize that every group is unique. Regardless of the size or goals of your group, our team provides you with the tools and strategy you need for a best-in-class member management experience. We've taken a ton of functionality and made it easily accessible from one place. We hope you'll explore your seemingly endless options!
What to do next on memberplanet
Now that you've completed the basic setup of your group, here's what you can do next on the platform.

Manage members: If you're sick of keeping track of your membership database and renewals through spreadsheets, individual email reminders, and file cabinets of member profiles, you've come to the right place. You can manage your entire membership experience online utilizing wide-ranging automated features and our set-and-forget management tools.

Process payments: Fundraise, collect payments with ease, and offer electronic and recurring and installment payment options. You'll never have to limit yourself to collecting only cash or check payments again, even if you're accepting a payment on site. Our features – and mobile app – keep it simple.

Engage: Your group's success depends on how well you engage your members. memberplanet provides all the communication tools and strategy needed for ongoing and impactful engagement. One of our core missions is to turn one group's successes into streamlined upgrades that benefit all users across the platform – so you always get the most out of your memberplanet experience.
Glossary - Getting Started
Custom Field Label: the name of the newly created field.
Custom Field Type: the input format of the field to be populated by the member (e.g. checkbox,  dropdown menu, etc.).
Custom Field Visibility: indicates who can see the field, such as admins or all members, and whether or not the field is required before joining.
Group Site: the all-in-one interface for your group and landing page for all your members.
Processing Fee: the flat fee that covers the costs of charging and processing transactions.
Site Fee: the fee memberplanet charges for use of the platform to collect funds, which is a variable fee based on the plan or subscription level chosen.